Resurge Ultrasonic Cleaner
The Power of Resurge: New Confidence in Instrument Reprocessing
The new Resurge Ultrasonic Cleaner family from Dentsply Sirona and Resurge Instrument Cleaning Solution combine to provide modern convenience with powerful and effective cleaning performance.
Resurge Ultrasonic Cleaners offer optimum capacity for those in smaller offices needing low or limited capacity and larger offices having a greater need.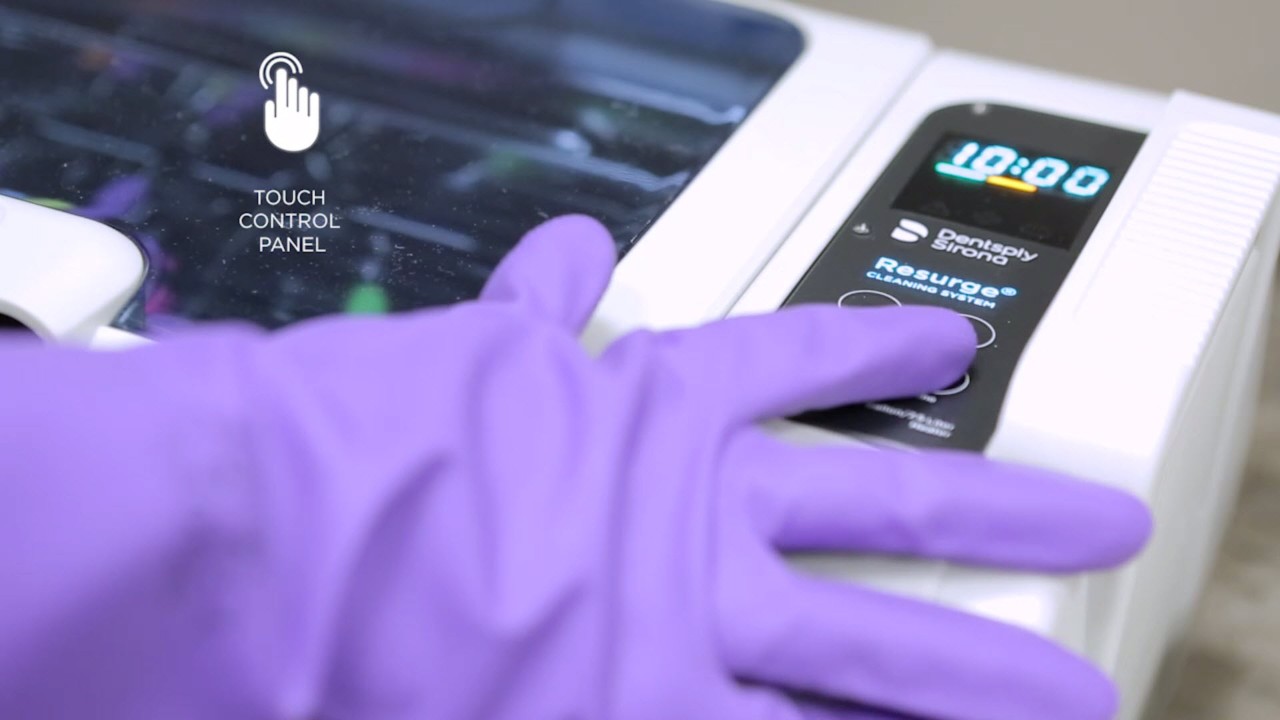 Regardless of size, both units offer
The Power of Resurge - The new Resurge Ultrasonic Cleaners from Dentsply Sirona and Resurge Instrument Cleaning Solution combine to provide modern convenience with powerful and effective cleaning performance.
A low profile design for ease of loading and unloading.
Flexible loading option allowing for bundles, loose instruments or cassettes – or a combination of all.
Touch screen controls for ease of operation.
Superior Cleaning
The Power of Resurge
Coupled with the proven power of Resurge Instrument Cleaning Solution, our new ultrasonic cleaner is more effective than the leading system on the market.* Tests show that the combined system of Resurge Instrument Cleaning Solution and Resurge Ultrasonic Cleaner is more powerful at removing protein. (TP-654-DV)

*Test on file
The cleaning performance of Resurge Instrument Cleaning Solution was evaluated versus leading competitive products in two different studies: In removing synthetic soils, Resurge outperformed all ten competitive products tested, achieving > 98% soil removal from instruments in all areas of the ultrasonic machine during a cleaning cycle.*
*Test on File
Optimum Capacity & Flexibility
Optimum Capacity & Flexibility
The Resurge Ultrasonic Cleaners offer optimal instrument cleaning management. The 0.8 gallon is a low capacity cleaner that is ideal for small dental practices with 1-2 dentists while the 2.0 gallon is a high capacity cleaner that is ideal for a larger practices. Infection Prevention best practices emphasize loading instruments into an ultrasonic bath in such a manner that the ultrasonic action can surround the instruments and remove soil unimpeded.
Our unique universal rack and stacking system allows you to maximize the number of instruments cleaned in each cycle. No matter how you choose to process instruments, each cleaner has the flexibility to customize the loading of your instruments, whether loading the instruments loosely, in cassettes or in bundles. Optional stackable low profile trays and beaker holder system are also available to optimize flexibility.
Foil Test
Foil Test
The risk of improper sterilization increases if you do not properly clean your instruments prior to autoclaving them. It is critical to ensure that your ultrasonic cleaner is functioning through the entire tank rather than discovering later it is inefficient. This can lead to sterilization process failure and possible cross-contamination between patients.
The Resurge Ultrasonic Cleaner Foil Test Kit is a simple 3-minute test to provide direction as to whether your ultrasonic cleaner is working properly or may need repair or replacement.
How to Use Foil Test Kit
Warranty
Resurge Ultrasonic Cleaner Product Warranty Registration
Thank you for your purchase. We hope you enjoy your new ultrasonic cleaner. Please register your products to ensure full warranty protection by providing the following information and receive new product and product improvement information as it becomes available.
If you have any questions please contact Dentsply Sirona Professional Customer Service at 1-800-989-8826.
*Registration only available to US residents*
The Registration form is currently under construction. To submit your registration form come back to this page soon or email DPDE-ResurgeRegistration@dentsplySirona.com with the following information:
Office name
Office Address
Office Phone Number
Office email address
Dr. First Name
Dr. Last Name
Country
City
State
Zip Code
Dealer Invoice Number
Ultrasonic Unit Serial Number (Located on the bottom of your unit or on the silver label on the side of the outer carton)
*Please submit your JPG/PDF of your dealer invoice to DPDE-ResurgeRegistration@dentsplySirona.com to complete your warranty registration. Registration will not be complete without dealer invoice.