We support you with a range of services

With Dentsply Sirona, you have a strong partner at your side. We will help you to quickly integrate CEREC into your practice and offer you an extensive range of services – from marketing material and training to the CEREC Club.

Convince your patients

The CEREC treatment offers your patients excellent restoration results as well as a completely new treatment result in just one visit. We help CEREC users show this treatment spectrum in the right light. This builds up the patient's confidence in the CEREC method. We have prepared a wide variety of CEREC marketing materials for users that can be used to advertise CEREC.

Online support with the CEREC patient website

We have created the CEREC patient microsite www.onlyonevisit.com, which is designed to help CEREC users market their services. This website clearly presents the CEREC method as well as its benefits to the patient. The online banners create a link from the dentist's own website to the CEREC patient website. The website can even be personalized by the users.

Explain CEREC to your patients in 60 seconds

What does CEREC stand for? What is the treatment process? What are the advantages for the patient? We will answer these questions in the following video. This video is a part of the patient website but may also be directly embedded into the websites of CEREC users.

Presentation for the waiting room monitor

Using the PowerPoint presentation, CEREC users can create awareness for the CEREC method – in the relaxed atmosphere of the waiting room. The presentation will arouse patients' interest, they will become curious and ask the dentist for more information about the treatment method.

Posters, flyers, and appointment cards

We support CEREC users by providing printed materials: a poster for the waiting room, a flyer, and appointment cards. If you would like any of these materials, they can be ordered from your specialist dealer.

CEREC Club - Perfect fit for your success
With CEREC Club, you will benefit from the latest software updates and upgrades as well as from extended parts warranties over the warranty term of up to six years. Optional products can be added as required for a discounted price. With CEREC Club, you are always one step ahead; you continuously benefit from the latest CEREC innovations and comprehensively secure your system while developing it further at the same time. This automatically keeps your investment up to date.
 
Your advantages at a glance
Guaranteed innovation
Latest CEREC Software keeps you up-to-date
Investment security
Extended parts warranty
Top value for money
Comprehensive service during the lifetime of your CEREC System
The club grows with you
For equipment purchased later, e.g. a CEREC SpeedFire sintering furnace, an extended parts warranty can be added to the existing contract.
A club concept that grows with your needs
No matter if you later on decide on upgrading your Digital Impression unit to a whole chairside system or you just want to purchase additional equipment for your practice – with the CEREC Club options, you can be sure to always have a flexible solution that exactly fits your needs.
Choose your package according to the device you own: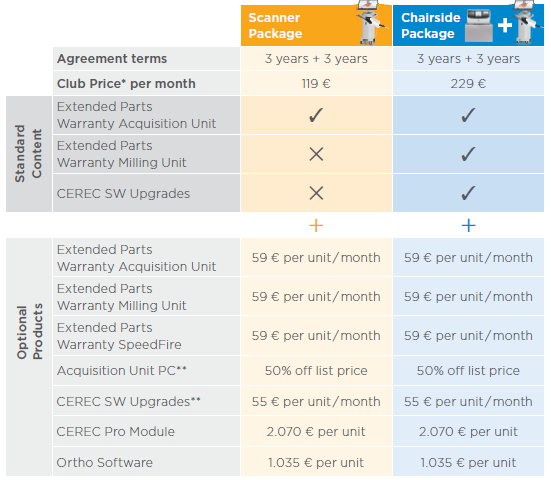 * All prices are recommended retail prices and without applicable taxes.
** Pre-installation of initial CEREC SVD required to use CEREC SW Upgrades
Contact us for more information
Find out more about the CEREC system from Dentsply Sirona by requesting product information.